Herradura Tequila
---
NOM: 1119
Distillery: Brown - Forman Tequila Mexico, S. de R.L. de C.V.
Region: Amatitan (Lowlands)
---
Founded in 1870 by Feliciano Romo, Herradura tequila remains one of the most recognizable and tasteful brands in the world. They also produce El Jimador tequila , a product marketed differently than Tequila Herradura.
There are many versions on how the Herradura name came to be. Legend has it a member of the Romo family was looking for a place to build a new distillery. That is when he stumbled upon a horseshoe. While not a valuable treasure, horseshoes are known as symbols of good luck. Thus, he decided to name his tequila after it.
This man was either Feliciano Romo (1870) or Aurelio Lopez Rosales (early 1900s). Either way, the horseshoe did its magic: Brown-Forman recently acquired Casa Herradura for 876 million dollars.
I know, I know... I too want to find a lucky horseshoe!
On to the brands then…
Herradura Silver (Blanco)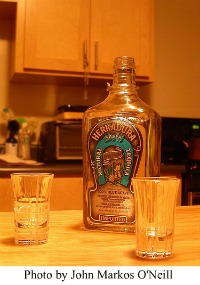 Type: 100% blue agave.
Aging: 40 days in white oak barrels.
Price range: $30-40 (750 ml)
Unlike most blancos, Herradura Silver is aged for over a month. That's what gives it the slightly yellowish look.
Flavor-wise, expect traces of citrus and oak along with a strong finish.
Would I recommend it? Yes, but I prefer a few other blancos before this one.
Herradura Reposado
Type: 100% blue agave.
Aging: 11 months in oak barrels.
Price range: $40-50 (750 ml)
There's caramel, vanilla, and pepper in this Herradura tequila. It also has a slightly spicy finish. A good reposado that mixes and sips very well.
The only drawback is its price. There are better price/value reposados, but Herradura Reposado is always a good purchase if its within your means.
Herradura Anejo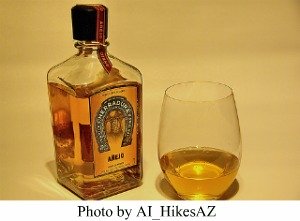 Type: 100% blue agave.
Aging: 25 months in oak barrels.
Price range: $ 40-50 (750 ml)
Herradura Anejo has earned a reputation as the go-to premium tequila. A sweet tequila with strong agave and a good finish. Bad news though…
Friends of mine (trustworthy tequila aficionados) recently complained about the latest anejo Herradura tequila. They claimed the flavor was off, the agave was less prevalent, and that, for the first time ever, it gave them a hangover. One of them even claimed chemicals were added to the Anejo (a serious accusation: chemicals should NEVER be added to premium tequilas). Not good news…
Again, this wasn't my experience (I haven´t tried it recently), but I'm hoping it was an unfortunate batch and not a long-term trend. I'd hate to see this wonderful brand ruining itself for profit.
I'm interested in hearing what you have to say about this issue. Do give me feedback on Herradura Anejo.
Herradura Seleccion Suprema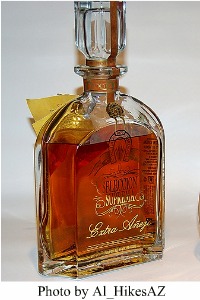 Type: 100% blue agave.
Aging: 49 months in oak barrels.
Price range: $250-300 (750 ml)
One of the most expensive and exclusive tequilas you'll come across. At this price point, it competes against scotches rather than tequilas.
The liquor itself is fantastic (at that price it better be!) and it has a strong, albeit selective following. A wood aroma, fruity note, and a rich, creamy flavor make this an ultimate tequila.
If the price is too high, at least try a shot of Seleccion Suprema at your local bar. I promise you'll be hooked!
Summing things up...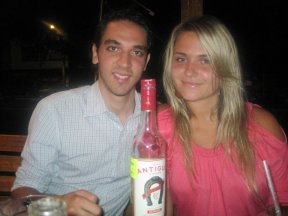 Herradura tequila uses traditional techniques, estate-grown agave, and decades of experience in the industry. It's hard to go wrong with a good Herradura bottle.
As a sidenote, if you ever come down and visit Tequila, Jalisco, do take a tour through Herradura's Hacienda San Jose del Refugio. You won't regret it.
---
Return to Tequila Brands from Tequila Herradura

Return to Tequila Knight from Herradura Tequila